The story of "The Exist" starts with a band called "Xyst". In 1986 I was asked by Peter van Leeuwen to join his band "Xyst" because their bass player had left and they still had one gig to do. After this gig the band fell apart more or less, and Peter and I tried to reform it by inviting other musicians.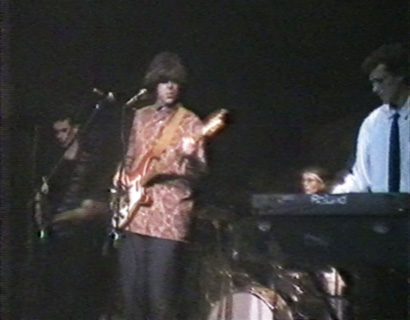 My first and only gig with Xyst (Amsterdam, April 25th 1986)
I switched from bass guitar to just guitar and asked Maarten Heijblok, a former big band bass player, to join us. Finding a drummer turned out to be much harder. We started practicing with a whole series of guest- and would-be drummers. At our first gig we still didn't have a new name, and although we hated the name "Xyst", we passed it on through the phone as we were asked for it. As we arrived at the club we were surprised that we had been billed as: "The Exist". Obviously somebody misspelled the name, but we liked it and decided to keep it, in spite of the grammatical error.
Yet, the search for drummers was not over. Eventually we teamed up with Gerrit Korink and with him we recorded our first and second demo.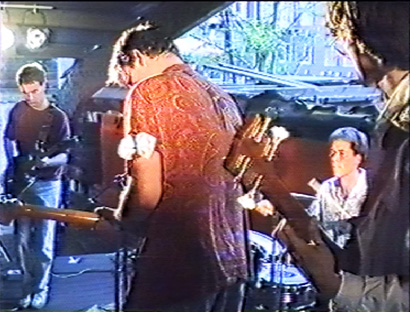 One of the first gigs with Gerrit (Amsterdam, April 30th 1987)
Gerrit left the band in the Spring of 1989 to join "De Wit" to be able to play more frequently (for a real audience). "De Wit" turned into "The Deadbeats" and some of their members popped up later as "The Friskoos".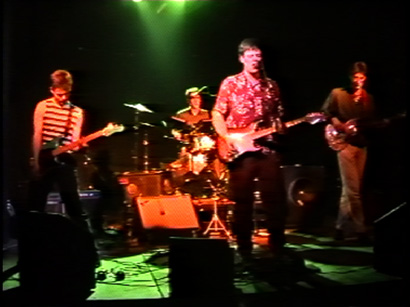 Sleepin (Amsterdam, March 23rd 1988)
We were lucky to run into Zjenja Guberman during the Summer of 1989. It was only three months before that Zjenja had left Leningrad and came to Amsterdam. In the USSR he had been playing with several groups, among which "Aquarium".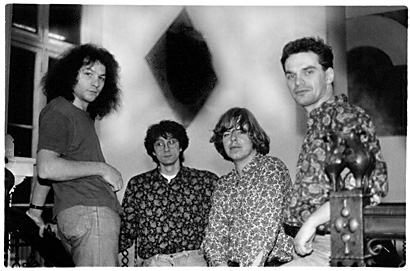 Promo-pic with Zjenja in the Sleep-in. (Amsterdam, 1990)
Zjenja spoke almost no Dutch and very little English at the time, but we managed to communicate through the music. Yes I know it sounds corny, but that's the way it was. It turned out that Zjenja was the right pick. With him we recorded the two final demos. "The Man Brain" from our last recordings was the only Exist song that ever saw vinyl.
After Peter's departure first Natalia Feinberg and later Harry Buhrman (both guitar) joined the band for a short period of time after which it was decided to continue as a trio.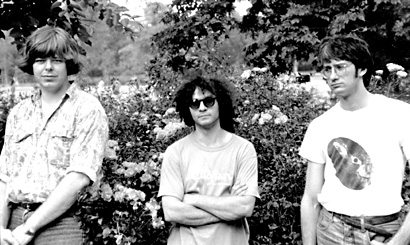 Picture from the final photo session. (Amsterdam, 1991)

We split in 1991, due to the mere lack of gigs.

Peter got his PhD in chemistry and left for Belgium.

Maarten went on with his previous side-kick "Ouke Baas", named after the (in)famous Amsterdam car-rental service. This beer-bust combo later turned into "The Treble Spankers". It's a pity that this band after they were signed to Polydor were more or less forced to call it a day due to the RSI their lead guitar player Phantom Frank was suffering from. Maarten teamed up with ex-Hangouts' Remco de Waard and emerged in The Parlandos. He later showed up in a number of other bands among which: Los Tiki Boys, The Herb Spectacles and The Pacifix. His endeavours are well-documented on his web site.
Zjenja and Gert concentrated on the other concurrent band project "The Kliek". Zjenja, being a man of many styles, heavily infiltrated the Amsterdam Jazz-scene after "The Kliek" split up and could be seen playing now and then at different locations with ever-changing line-ups (e.g. Hoogstens 5). The last time I met Zjenja was around 2000 while he was playing drums for "KEK'66" the new band of former Kliek-buddy Robert Müter. In 2004 Zjenja moved back to Russia and played in a lot of different aoutfits in St. Petersburg. Zjenja sadly passed away on December 30, 2012.


Gerrit sadly passed away in September 2005.
Natalia eventually moved back to Copenhagen and played in several other bands and is still active in the music industry. She has a number of music videos on YouTube.
Nowadays Harry is a professor at the CWI in Amsterdam. Among other things he studies the theoretical foundations of quantum computing.

Gert Veltink (updated May 2018)